eSSENTIAL Accessibility
DISABILITY COMMUNITY INVOLVEMENT THROUGH ESSENTIAL ACCESSIBILITY™
A virtual wheelchair for our website
Individuals who have trouble typing, moving a mouse, or reading can't access the internet without assistive technology.
This icon certifies that our website features eSSENTIAL Accessibility: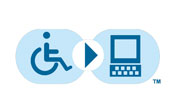 AODA Multiyear Accessibility Plan and Commitment

It is the foundation of a Disability Community Involvement initiative launched in association with leading advocacy groups for the disabled.
Click on this icon to visit www.essentialaccessibility.com where assistive technology is available free of charge.
eSSENTIAL Accessibility features an array of keyboard and mouse replacement solutions to enhance user experience and to help make the web accessible to all. These "alternative input methods" include a webcam-based hands-free movement tracking system that allows users to overcome any physical limitation. It also includes a web page reader.
eSSENTIAL Accessibility can be used on a standard PC by anyone with dexterity limitations that arise from a variety of conditions including:
Stroke/paralysis
Arthritis
Multiple Sclerosis (MS)
Parkinson's disease
Cerebral Palsy (CP)
Age-related factors
Moreover, it also helps those who have difficulty reading because of:
Literacy deficiencies
Limited English proficiency
Dyslexia or similar learning issues
Mild visual impairment
Toys "R" Us (Canada) Ltd., is proud to be a Founding member of this Disability Community Involvement initiative to create shared value. It reflects our commitment to Diversity, Inclusion, Corporate Citizenship and Social Responsibility.
Customer Service
We have made some changes to improve our services and our website. We have added Chat to our customer experience, replacing the phone line. We believe we can provide better service this way.
You can reach our Customer Success team via email using our contact us page or by Chat. The chat is available on all our pages in the bottom right-hand corner.
You can also reach your local store (see locator for store locations) for assistance.