10 reasons to choose Curbside Pick-up
Save on shipping and leave room in your budget for more great gifts!
Free yourself from obsessively tracking your order – you decide when to pick it up.
Avoid shippers' holiday backlogs and delays.
Be confident that your gifts won't be lost or damaged en route to you.
Almost-instant gratification: perfect for getting last-minute gifts.
Guard against spoilers! No more packages at your door for kids to see.
Create a safe, satisfying errand: get out of the house and interact at a distance with friendly staff.
Save yourself a trip into the store: perfect for high-risk persons or those with reduced mobility.
Manage your own time: pick up your order when it works for you – no appointment necessary.
Reduce waste with less packing material.

Placing your order: Step 1
Shop online as usual: products with a green checkmark beside FREE STORE PICKUP are eligible for Curbside Pick-up. Our site automatically chooses the store closest to you as your pick-up location: this is shown next to GET IT FAST. If you wish, just choose Change Store to select the option that is best for you.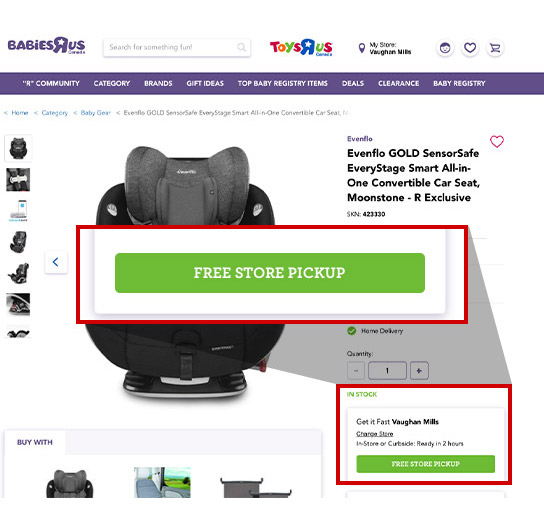 Placing your order: Step 2
Add the item to your cart by clicking the green FREE STORE PICKUP button. Repeat this step for each item you wish to purchase.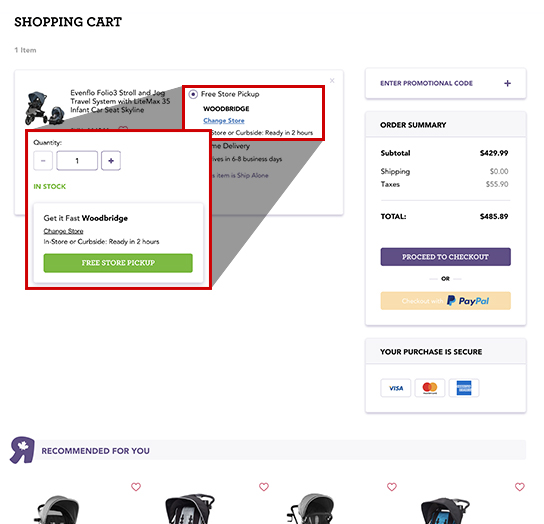 Placing your order: Step 3
Go to your Shopping Cart. Your pick-up location will be clearly identified for each product. With this option selected, you can either pick up your item in-store or curbside – no need to choose just yet.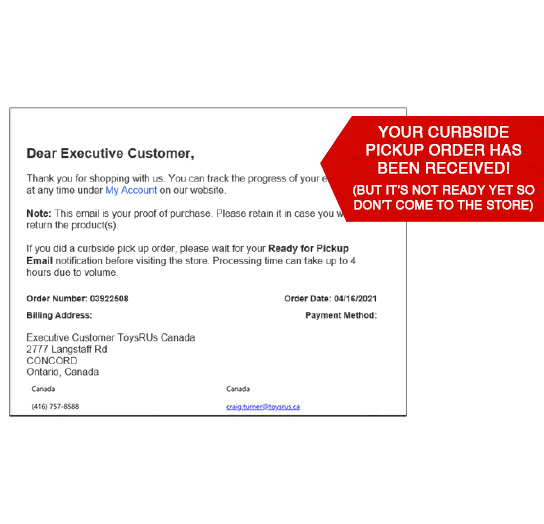 Placing your order: Step 4
Complete your checkout: we'll send an email to confirm that we've received your order. This is not your notice to come to the store. Within two hours, we'll send a second email to let you know your order is ready for pick-up. Please wait to receive this this email before you head to the store.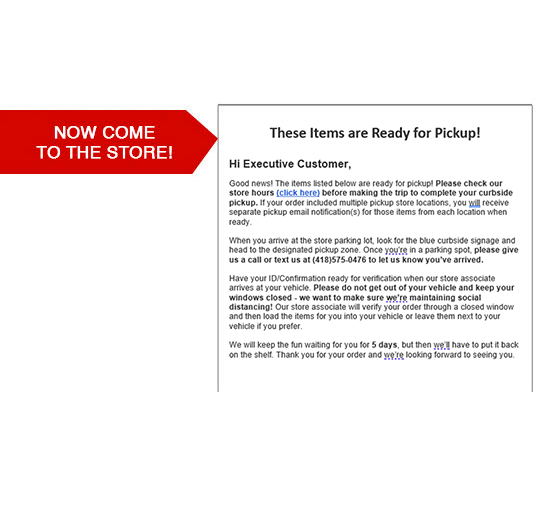 Picking up your order Step 1
When you receive your pick-up notification email, make sure you have lots of room in your vehicle for your items, and head to your selected store.
Picking up your order: Step 2
When you arrive at the store, you'll see signs in the parking lot directing you to the Curbside Pick-up area. Park in an empty space and call the number posted. Please stay in your vehicle.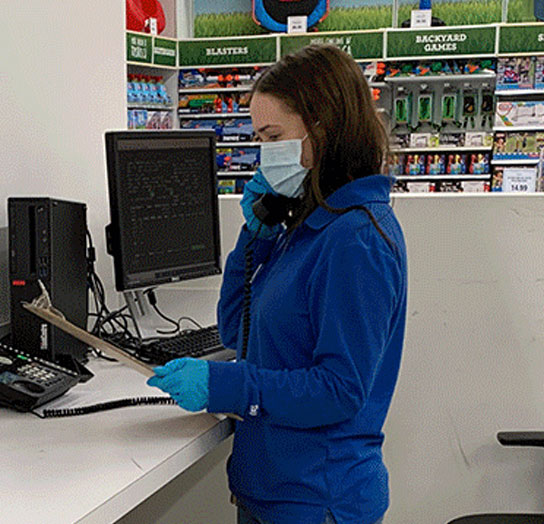 Picking up your order: Step 3
The associate on the phone will ask for your name and order number, so please have your confirmation email accessible. Staff will place your order directly in your vehicle while maintaining physical distance. Please keep the windows closed but have your ID and confirmation email for the associate to verify through the driver's-side window.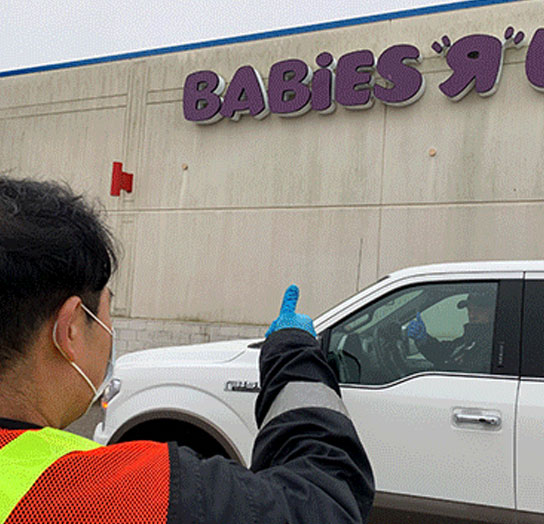 Picking up your order: Step 4
Once your vehicle is loaded and your order is verified, you'll get the all-clear from our team and you can be on your way!
Curbside Pick-up FAQ
Yes: all our stores offer this free service.
Look on the product page beside FREE STORE PICKUP – a green checkmark shows that it's available for this service.
Not all items on our site are available for Curbside Pick-up, because certain products are shipped directly from our suppliers, or because of other inventory constraints. We add new items daily, so please check back – the status of your item may change!
You can collect your Curbside Pick-up order during regular operating hours of your selected store: to confirm the store hours,
visit our store locator.
Remember to wait for the email confirming that your order is ready for pick-up before you head out to the store.
Our staff can typically have your order ready for pick-up within two hours. Remember to wait for the email confirming that your order is ready for pick-up before you head out to the store.
You must pick up your order within three business days. Orders not picked up within three days will be cancelled and the cost refunded to the original method of payment. 
Yes: you can cancel your order by contacting the store you selected as your pick-up location.
No: this option cannot be changed once the order is placed.
Yes: Curbside Pick-up orders can be collected in-store at the customer service desk.
Yes: you can select the pick-up location for individual items in your order – either as you add each one to your cart, or at checkout.
Yes: you can designate another pick-up person by calling your selected store to inform them of the change. You'll also need to forward your pick-up email to your designated person: on arrival at the store, they must show their identification and the pick-up email that includes your order number.
Shop from the comfort of your home and get it fast with same and next day delivery.
Six Reasons to Choose Same and Next Day Delivery
Kids asleep? Calls scheduled? No need to arrange your day around leaving the house.
You can watch your order on its journey from our shelves to your doorstep.
Avoid shippers' holiday backlogs and delays.
Perfect for those last-minute gifts.
Safeguard those surprises: you can see exactly when your order is expected to arrive.
Reduce waste with less packing material.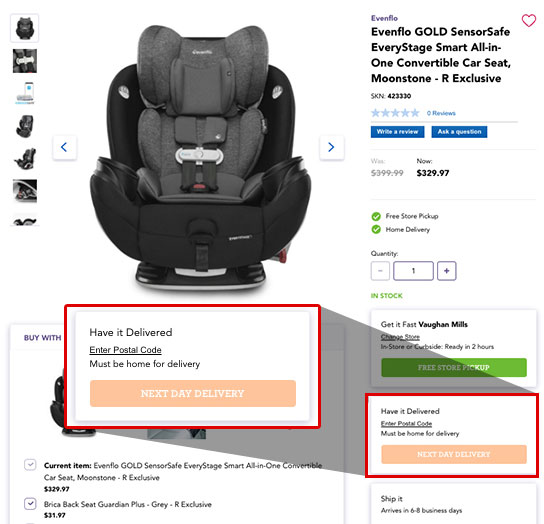 How Same-Day Delivery works
Shop online as usual: you'll see your delivery options on the right side of the product page. If the item is available for Same-Day Delivery, please enter your postal code in the box to confirm that your location is eligible.
Once you've confirmed that the item and postal code qualify, select the orange SAME-DAY DELIVERY button and add to your shopping cart. (You can also change your delivery method in the cart before checkout.)
Complete checkout: service charges apply and will be confirmed before you submit your order.
We'll send an order confirmation via email. From this point, text notifications allow you to track your order in real time! (Note: text notifications are not available in Quebec.)
Same-Day & Next-Day Delivery FAQ
Availability for this service has to do with the inventory of any given item at stores in your region. You can check the availability of any item on the product page.
You must place your order before 2pm local time to guarantee Same-Day Delivery. Orders placed after 2pm local time will be delivered before the end of the following day.
The cost of this service varies and will be specified in your cart prior to checkout. You can change the delivery method of any item before you submit your order.
No: all delivery fees are non-refundable.
Please contact your local store for any questions related to your Same-Day Delivery order.
No: although we do advise you or a family member or friend to accept the order in person. If no one is home at the time of the delivery, your order will be left at the discretion of the delivery driver or according to any reasonable drop-off instructions you provide when you place your order. If no safe place is available to leave your order, the driver will return the items to your local store and the delivery fee will be forfeit and non-refundable.