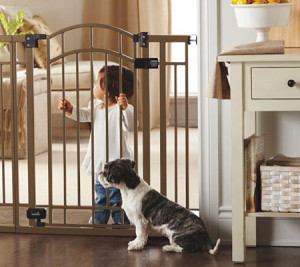 Pressure mounted baby gates for doorways
These are baby gates that adjust to the dimensions of a doorway, and then get wedged and locked into place. They're good as room dividers because they keep babies in or out of a space, but they SHOULD NOT be used at the top of the stairs because they're not affixed to the wall; a strong baby could theoretically move it out of position. They're also not ideal for high traffic areas as they have to be reinstalled properly every time they're moved.
For high-traffic doorways, look for pressure mounted baby gates with a support bar along the bottom and a door that swings open. While these often come with the option of hardware mounting, they shouldn't be used at the top of stairs, because the support bar can be a trip hazard.
Pressure mounted baby gates come in different colours, finishes and decorative looks; and in different lengths and widths as well. Baby gates for open concept homes can stretch as long as 12 feet!
Hardware-mounted baby gates for stairs
These are mounted with screws directly into the wall (be sure to put them into the studs) and can withstand much more than pressure mounted baby gates. A hardware mount isn't 100% mandatory for the bottom of the stairs, but should always be installed at the top.
Some hardware-mounted styles have a special one-way swing-stop mechanism to prevent the gate from swinging out over the stairs. These are best for the top.
Retractable baby gates for narrow doorframes
If you don't have the space to install a standard-size baby gate, you can choose an accordion fold style retractable model to form a fitted barrier. It will do the job while still giving adults room to move through.
Keep in mind that most retractable gates are made of mesh or loose plastic and are more susceptible to damage. Keep a close eye to make sure there are no rips or dangling pieces. Also, since retractable gates can pinch little fingers, you should always be the one to pull them out or push them in.
Freestanding gates to create play areas
Unfold one of these around a play mat to form a safe place for your baby to hang out. Baby fences are connected so they're impossible to knock down, and most models collapse easily so storage is a breeze. As your baby gets older and needs more space to play, you can increase the size of the play area with gate extensions.
Baby gate options
Baby gates come in a variety of colours, patterns, styles and finishes. They also vary in height and width. You shouldn't have trouble finding the perfect one for your space.
When should you install a baby gate?
The day your baby starts attempting to crawl is the day you should think about putting baby gates in your house. It won't take that long for them to get the hang of moving on their own, and once they do they're hard to catch.
Not the handiest person in the world? Ask a friend to help or hire a professional. An incorrectly installed baby gate can be more dangerous than no baby gate at all.