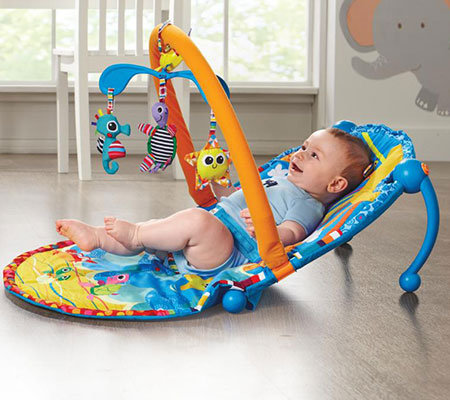 Relative to the size of a baby, the gear they require is massive. If you don't plan for the various pieces carefully, your house will start to feel like an obstacle course very quickly. Here are some of the items and options you'll probably have to make room for in the first 0-18 months:
Baby swings
You'll be happy to have a swing to gently rock your baby when they're fussy. The soothing movement will calm them, and if it comes with an audio component, the soft music can quickly turn a frown upside down. More traditional models will swing front-to-back, but the more advanced options have a side-to-side motion as well, which some babies prefer.
Bouncy chairs
If you want to put your baby down but don't necessarily want them to sleep, a bouncy chair is a great entertainment solution. They all come with a toy bar to keep the little one engaged, and some have vibration and music functions. Bouncy chairs are excellent for promoting movement in a seated position. When your baby learns that kicking their legs makes the bouncer bounce (and that bouncing is fun), they'll do it more.
Playards
These are large, enclosed places for babies to rest, move and play. Whatever size playard you choose, it will most likely be the biggest piece of gear you have for your baby outside of the crib in terms of floor space, so plan accordingly. Playards are good to have even if you don't plan on travelling with it. Being able to easily move it from room to room when you need to make space is a huge bonus.
High chairs
Your kitchen will never be the same again once your little one graduates from eating in your arms to eating on their own in a high chair. Your eating area will have a new seat to consider when setting or clearing the table; and even if you go for a fold-up high chair, you'll need to find storage for it. Since it's going to be with you for a while, look for a high chair that matches your kitchen's style. Fortunately, you may only need to buy a high chair once, as models will transition with your little one as they grow.
Entertainer
Once your baby's neck muscles are strong enough to keep their head upright, you can start on getting them to work on other muscles. An entertainer, is a fantastic piece of equipment for not only development but it can also provide entertainment for your baby. Once placed in the seat, babies learn to use their legs for bouncing and balance. If their feet don't touch the ground, put a mat or a change pad underneath. Their feet should be able to touch something so they can bounce. Most exerciser seats swivel, which will help you teach your baby to use their hips to move, especially if there's an affixed toy behind them that they love.
Jumpers
There are two kinds of jumpers: doorway jumpers that hook onto a door frame and stand alone jumpers that come with their own frames. Both help your baby improve balance and develop rhythm while strengthening core muscles. If you're going to install a doorway jumper, pick a doorframe on a less travelled path in your house. You can put a soft surface underneath like a rug, mat or carpet for your baby to stand on.
Tip: For added fun, think about adding a musical mat that is colourful and makes sounds as they jump on it.