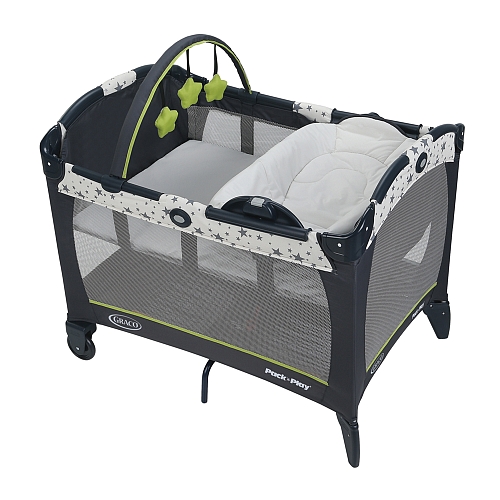 The right baby playard or playpen can make your life easier from the word go. Playards are especially helpful, doubling as a crib or changing station when you're not at home. They're easy to set up and fold, and even come with a carrying bag for smooth transport. Playards range from very basic (four walls and a floor) to loaded with extra features for napping, changing and more. Here are some features to look for as you shop for this popular 'mother's helper'.
Napper station
This is a small bed for newborns and infants that fits into the playard. It's a perfect place for them to grab a few z's during the day (so you can grab a few yourself). Some playards with napper stations offer space-saving convenience like built-in storage shelves for blankets, diapers, sleepers and other necessities.
Bassinet feature
At home, it makes a great place to put a napping newborn down while you fold laundry, make a quick call or grab a catnap of your own.
Changing stations
Diaper emergencies can happen in a hurry, so you can never have too many changing areas at home. And it's very handy to have when travelling, especially if you're setting up shop somewhere for a while.
Mobiles
Encouraging your baby to reach up is good for their muscles and motor skills, and as a parent, it's fun to watch them coo at the figures above their heads. It also keeps them occupied for a while. Look for ones with music and ambient sound features for added entertainment.
Wheels
Being able to easily roll your playard from one room to another or from inside to outside is a definite bonus. Every playard has wheel locks so you can be sure your little one isn't going anywhere unless you're taking them.
Coordinated playards
If you're putting a look together with your other baby gear, you can find prints to match what you already have. Or if you're starting from scratch, you can look for sets that could include a swing and a high chair to keep a consistent style.