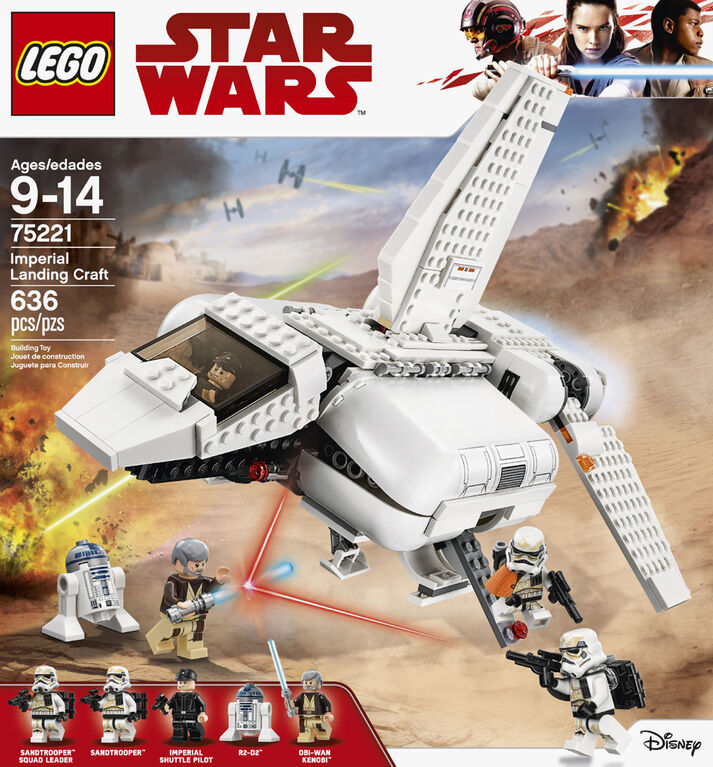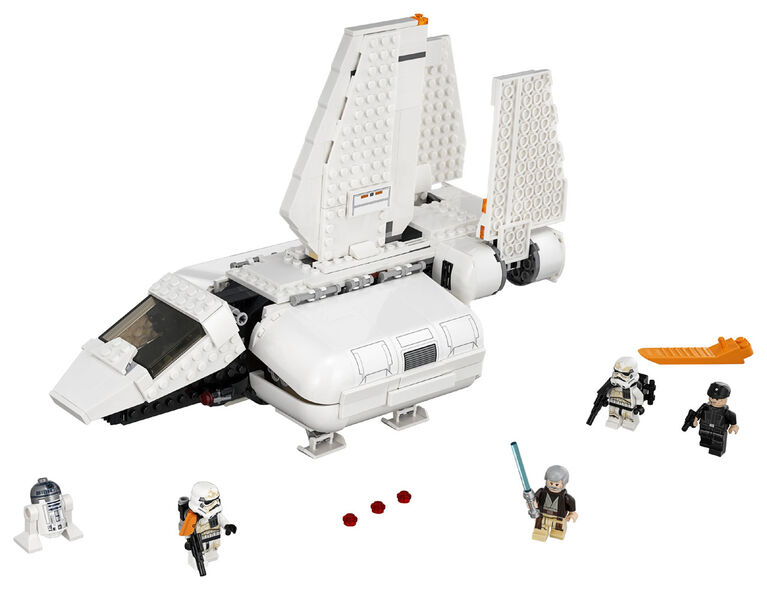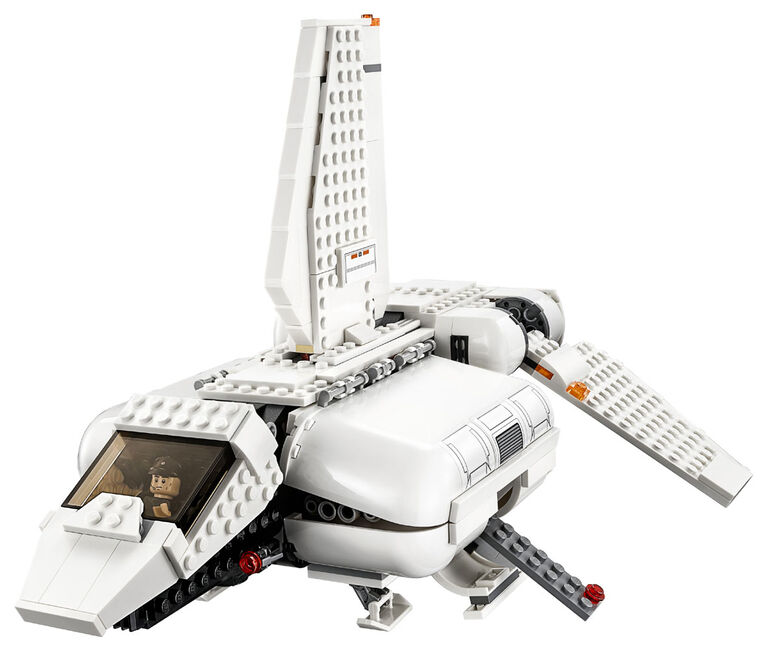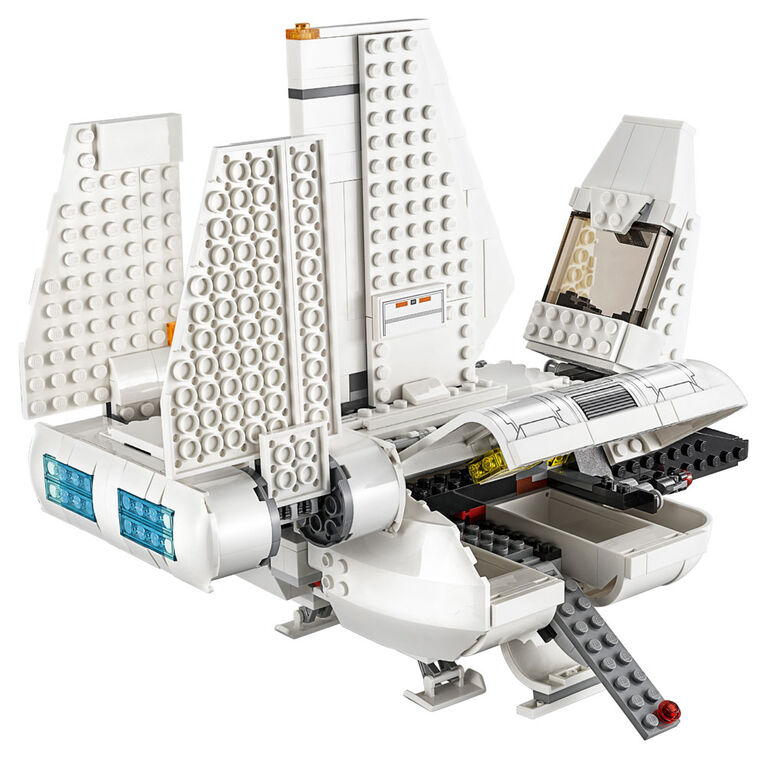 Play out galactic adventures with the LEGO Star Wars 75221 Imperial Landing Craft. As seen in Star Wars: A New Hope, this fun model has folding wings for flight/landing modes, stud shooters, landing gear, an opening minifigure cockpit and opening top panels with a slide-out access ramp. And with lots of space inside to sit or stand Imperial troops, any Imperial leader will have endless fun shuttling them wherever they're needed in the galaxy! This set includes 4 LEGO minifigures and an R2-D2 droid.


Includes 4 minifigures: Obi-Wan Kenobi, an Imperial Shuttle Pilot, Sandtrooper and a Sandtrooper Squad Leader, plus R2-D2!
Imperial Landing Craft features folding wings for flight/landing modes.
Weapons include a blaster pistol, 2 blasters and Obi-Wan's Lightsaber.
Load up the troopers and fly them across the galaxy, wherever they're needed!
Combines with the 75205 Mos Eisley Cantina set for action-packed Tatooine adventures.
Additional Information
SKN: 323608
ID: D2290E7B
UPC: 673419282765
Brand: LEGO
Part Of Assortment: Yes
MFR Number: 6212809
Ship to Quebec: Yes
In Store Only: Yes
Maximum Order Quantity: 2
Toysrus Recommended Age: 9 - 13 years
Registerable: No
Language: Bilingual
Gift Wrap: Gift wrap is not available for this item
Assembly
Item Height: 3 inches
Item Length: 15 inches
Item Weight: 2.55 lbs
Item Width: 14 inches
<!--begin-bvseo-reviews--> <!--begin-reviews--> <div id="bvseo-reviewsSection"> <div class="bvseo-review" itemprop="review" itemscope itemtype="http://schema.org/Review" data-reviewid="1092800046"> <span itemprop="reviewRating" itemscope itemtype="http://schema.org/Rating"> Rated <span itemprop="ratingValue">5</span> out of <span itemprop="bestRating">5</span> </span> by <span itemprop="author" itemtype="http://schema.org/Person" itemscope><span itemprop="name">Arnold</span></span> from <span itemprop="name">Beautiful set</span> <span itemprop="description">Amazing set with great figures, rare sand storm troopers that look very detailed and also an amazing imperial pilot which i needed. The set looks very smooth and clean</span> <div class="bvseo-pubdate">Date published: 2021-02-28</div> <meta itemprop="datePublished" content="2021-02-28" /> </div> <div class="bvseo-review" itemprop="review" itemscope itemtype="http://schema.org/Review" data-reviewid="1092800047"> <span itemprop="reviewRating" itemscope itemtype="http://schema.org/Rating"> Rated <span itemprop="ratingValue">2</span> out of <span itemprop="bestRating">5</span> </span> by <span itemprop="author" itemtype="http://schema.org/Person" itemscope><span itemprop="name">Enzo333</span></span> from <span itemprop="name">Nice addition to 4-6 but...</span> <span itemprop="description">It was nice to round out my collection of the 4-6 series but as I don't always have room for the ultimate collectors series I was pleased to see this release. However the design didn't meet the expectations I had of the craft from my experience with the movie versions. I also had to rig the rear panels to close properly even though I re-read the instruction more than once. Sorry, wish I could have loved it. Waiting for a large scale Imperial Probe Droid.</span> <div class="bvseo-pubdate">Date published: 2019-11-05</div> <meta itemprop="datePublished" content="2019-11-05" /> </div> <div class="bvseo-review" itemprop="review" itemscope itemtype="http://schema.org/Review" data-reviewid="1054649724"> <span itemprop="reviewRating" itemscope itemtype="http://schema.org/Rating"> Rated <span itemprop="ratingValue">5</span> out of <span itemprop="bestRating">5</span> </span> by <span itemprop="author" itemtype="http://schema.org/Person" itemscope><span itemprop="name">PatrickA</span></span> from <span itemprop="name">I'm a shuttle lover</span> <span itemprop="description">I love imperial shuttles, very much. And this one is an amazing addition to my collection. I love the fact that it looks fattier with both side engine compartments. The minifigure selection is great. We never have enough sandtroopers or stormtroopers. For the price, however, I think it is a bit overpriced. Like all big LEGO franchises (Star Wars, Marvel, Jurstice League, Jurassic World, Harry Potter, Disney, etc), these sets are a bit pricey, when you compare to equivalent sets in original LEGO collections (City, Classic, Ninjago, Speed Champions etc). But besides the price, I think it is a great set. There is a huge lot of imperial and rebel shuttles in the expended universe of Star Wars. I hope this set is the beginning of a many shuttle collection to come :)</span> <div class="bvseo-pubdate">Date published: 2019-03-11</div> <meta itemprop="datePublished" content="2019-03-11" /> </div> <div class="bvseo-review" itemprop="review" itemscope itemtype="http://schema.org/Review" data-reviewid="1054649716"> <span itemprop="reviewRating" itemscope itemtype="http://schema.org/Rating"> Rated <span itemprop="ratingValue">3</span> out of <span itemprop="bestRating">5</span> </span> by <span itemprop="author" itemtype="http://schema.org/Person" itemscope><span itemprop="name">jedimike64</span></span> from <span itemprop="name">Imperial Shuttle</span> <span itemprop="description">I so much wanted to love this remake of the Imperial Shuttle since I don&rsquo;t have the full size one from years ago. The biggest problem I have had with this build is that the upper level molds on this build snap off the hinges and I can&rsquo;t completely close it without it coming off the Lego hinges. I&rsquo;m going to have to try and rebuild these steps but I didn&rsquo;t miss anything or use the wrong parts. Very frustrating and annoyed right now. on the plus side it&rsquo;s nice to get the mini figs</span> <div class="bvseo-pubdate">Date published: 2019-02-14</div> <meta itemprop="datePublished" content="2019-02-14" /> </div> <div class="bvseo-review" itemprop="review" itemscope itemtype="http://schema.org/Review" data-reviewid="1054649713"> <span itemprop="reviewRating" itemscope itemtype="http://schema.org/Rating"> Rated <span itemprop="ratingValue">3</span> out of <span itemprop="bestRating">5</span> </span> by <span itemprop="author" itemtype="http://schema.org/Person" itemscope><span itemprop="name">Cornbread43VA</span></span> from <span itemprop="name">Overpriced for low quality</span> <span itemprop="description">I do not completely hate this set. I bought it for a reason. But there was a lot wrong with this. It looks nice, except for when flying because the wings are somewhat short and the landing gear does NOT retract, which is a huge downside to a set with great potential. There are also gaps that could have easily been modified out. The black part of the cockpit is not accurate and does not look good to me. It should have been white, or even dark bluish gray. The 2 x 4 wedge plate on the cockpit looks out of place, especially with the 1 x 2 brick modified with studs on 1 side being light bluish gray. Another coloration mess-up is the plate beneath the trans-blue 1 x 4 tile is azure while the other piece is white, so the thrust looks like it is two different colors. Minus the looks, the features are okay, but I wish the minifugure selection was better. Obi-Wan and R2-D2 do NOT belong in this set. Obi-Wan is in a cheaper set from this year, and R2 came in several sets from this year. This ship was barely seen in the Original Trilogy but was prominent in Star Wars Rebels. R2 and Obi-Wan could have been replaced by updated versions of Sabine Wren and Ezra Bridger, which we still need. OR even etter, they could have been replaced by two more Sandtroopers. We had enough room for more than two, but we didn't get more than two. That's ridiculous that it's a troop transport without enough figures, especially because the last version from back-in-the-day had enough figures. Overall, this could have been better. I like it, but there was a lot that could have been changed. It is very overpriced for what you actually get.</span> <div class="bvseo-pubdate">Date published: 2018-12-24</div> <meta itemprop="datePublished" content="2018-12-24" /> </div> <div class="bvseo-review" itemprop="review" itemscope itemtype="http://schema.org/Review" data-reviewid="1054649717"> <span itemprop="reviewRating" itemscope itemtype="http://schema.org/Rating"> Rated <span itemprop="ratingValue">4</span> out of <span itemprop="bestRating">5</span> </span> by <span itemprop="author" itemtype="http://schema.org/Person" itemscope><span itemprop="name">ThePantherX</span></span> from <span itemprop="name">One Of My favorite Vehicles But A Bad Translation</span> <span itemprop="description">Pros: Very swooshable and sturdy build which doesn't fall apart in play. I like the retracting ramps and doors a lot. And price per part ratio is fair. I really like the figures as well but don't feel R2 and Obi Wan were needed. Cons: Stickers on curved parts already peeling and always a major downer. The model really does not accurately portray the source...with the Rebels TV show out there are many many uses and close-up views for this vehicle that could have been used. It isn't terrible but could have been SO much better if they had gone to the source. The cockpit sits much higher and the boarding door is on the front under it. Also the wings are jointed like a regular shuttle. I also would have traded out the Obi and R2 figures for either 2 more sand troopers or a couple Rebels characters instead.</span> <div class="bvseo-pubdate">Date published: 2018-12-13</div> <meta itemprop="datePublished" content="2018-12-13" /> </div> <div class="bvseo-review" itemprop="review" itemscope itemtype="http://schema.org/Review" data-reviewid="1054649725"> <span itemprop="reviewRating" itemscope itemtype="http://schema.org/Rating"> Rated <span itemprop="ratingValue">5</span> out of <span itemprop="bestRating">5</span> </span> by <span itemprop="author" itemtype="http://schema.org/Person" itemscope><span itemprop="name">fabiothomas</span></span> from <span itemprop="name">Better then expected</span> <span itemprop="description">I first thought this set was not that great because of all the hate it got but when I dicided to get it it was actually a very good set. I do not really agree with the amount of hate it got for example: Landinf gear does not retract. No indeed but you can take it off really easy and the older one couldn't either. Also if this was a feature then there would be almost no space inside. Talking about space there is alot if space I side the thing itself. You can fit 1 pilot in the cockpit and bisides that you can fit 3 stormtroopers in every open space allowing you to put in 12 stormtroopers. Sandtroopers are a little bigger with their bagpacks but if you want you can put 2 in every space having 8 in total. You can also fill a empty space with a 3x4 crate or smaller crates if you have those and if you really want to fill things up you can place a minifigure or a crate on the inside of the middle hatch that opens up to store more troopers so you can have 14 stormtroopers in total and there is also a empty space in the rounded areas in front. If you are creative there is alot of space inside. Overal for the non-diehardfans it looks pretty good. It doesn't matter that the top of the cargo area isn't flat it looks good this way too. It is great to have some good guys in the set aswell and we all know that Lego never puts two of the same figures in a Lego set. Even with the battle packs (sometimes only the heads are different like with the rebel stormtroopers battle pack but that only happens in battle packs) I think that alot of people are hating on this set for no good reason and I think this set deserves alot more positive feedback because it is a really good set and works really well</span> <div class="bvseo-pubdate">Date published: 2018-12-03</div> <meta itemprop="datePublished" content="2018-12-03" /> </div> <div class="bvseo-review" itemprop="review" itemscope itemtype="http://schema.org/Review" data-reviewid="1054649723"> <span itemprop="reviewRating" itemscope itemtype="http://schema.org/Rating"> Rated <span itemprop="ratingValue">3</span> out of <span itemprop="bestRating">5</span> </span> by <span itemprop="author" itemtype="http://schema.org/Person" itemscope><span itemprop="name">Ruko</span></span> from <span itemprop="name">Price</span> <span itemprop="description">This is a very good LEGO set I am glad to see that LEGO chose to remake the Imperial landing craft the last remake was 2008 anyways its a good LEGO set but the price now that&rsquo;s just too much I mean the 90 dollars that&rsquo;s insane, I think LEGO should make that set 60 to 70 dollars.</span> <div class="bvseo-pubdate">Date published: 2018-11-20</div> <meta itemprop="datePublished" content="2018-11-20" /> </div> </div> <script type="text/javascript"> if (document.getElementById('bvseo-reviewsSection')) { document.getElementById('bvseo-reviewsSection').style.display = 'none'; } </script> <!--end-reviews--> <!--begin-pagination--> <ul id="bvseo-paginationSection"> <li class="bvseo-paginationItem"><a class="bvseo-paginationLink" href="https://www.toysrus.ca/en/LEGO-Star-Wars-TM-Imperial-Landing-Craft-75221/D2290E7B.html?bvstate=pg:2/ct:r">LEGO Star Wars TM Imperial Landing Craft 75221 Reviews - page 2</a></li> </ul> <!--end-pagination--> <ul id="BVSEO_meta" style="display:none!important"> <li data-bvseo="bvDateModified">y_2023, m_1, d_27, h_22</li> <li data-bvseo="ps">bvseo_bulk, prod_bvrr, vn_bulk_3.0.34</li> <li data-bvseo="cp">cp_1, bvpage1</li> <li data-bvseo="co">co_hasreviews, tv_1, tr_13</li> <li data-bvseo="cf">loc_en_CA, sid_D2290E7B, prod, sort_[SortEntry(order=SUBMISSION_TIME, direction=DESCENDING)]</li> <li data-bvseo="diagnostics">clientName_toysrus-ca</li> </ul> <!--end-bvseo-reviews--> <ul id="BVSEOSDK_meta" style="display: none !important;"> <li data-bvseo="sdk">bvseo_sdk, dw_cartridge, 18.2.0, p_sdk_3.2.0</li> <li data-bvseo="sp_mt">CLOUD, getReviews, 5ms</li> <li data-bvseo="ct_st">reviews, product</li> </ul>
<!--begin-bvseo-questions--> <!--begin-questions--> <div id="bvseo-questionsSection"> <div class="bvseo-question-answer" data-questionid="4119493"> <h2 class="bvseo-question"> LEGO Star Wars TM Imperial Landing Craft 75221&#13;&#10;SKU: 323608&#13;&#10;will not add to my cart! It shows O items but adds a $9.86 shipping charge! </h2> <div class="bvseo-question-detail"> </div> <div class="bvseo-author">Asked by: Gijs</div> </div> <div class="bvseo-question-answer" data-questionid="4132753"> <h2 class="bvseo-question"> why can&#39;t i add it to my cart?? </h2> <div class="bvseo-question-detail"> </div> <div class="bvseo-author">Asked by: ames__</div> </div> </div> <script type="text/javascript"> if (document.getElementById('bvseo-questionsSection')) { document.getElementById('bvseo-questionsSection').style.display = 'none'; } </script> <!--end-questions--> <ul id="BVSEO_meta" style="display:none!important"> <li data-bvseo="bvDateModified">y_2023, m_1, d_27, h_22CST</li> <li data-bvseo="ps">bvseo_bulk, prod_bvqa, vn_bulk_3.0.34</li> <li data-bvseo="cp">cp_1, bvpage1</li> <li data-bvseo="co">co_hasquestions, tq_2</li> <li data-bvseo="cf">loc_en_CA, sid_D2290E7B, prod, sort_[SortEntry(order=LAST_APPROVED_ANSWER_SUBMISSION_TIME, direction=DESCENDING)]</li> <li data-bvseo="diagnostics">clientName_toysrus-ca</li> </ul> <!--end-bvseo-questions--> <ul id="BVSEOSDK_meta" style="display: none !important;"> <li data-bvseo="sdk">bvseo_sdk, dw_cartridge, 18.2.0, p_sdk_3.2.0</li> <li data-bvseo="sp_mt">CLOUD, getContent, 28ms</li> <li data-bvseo="ct_st">questions, product</li> </ul>
SKN: 323608
Was:
$109.99
to
Now:
$87.98
Get it Fast
In-Store or Curbside: Ready in ~2 hrs.
Have it Delivered
Must be home for delivery by DoorDash
Not eligible for Same Day Delivery -
Ship it
Ships in 1-8 business days
Currently Credit Card is the only form of payment supported for pre-orders.
Free Shipping when you spend $49. Shop Toys"R"Us and Babies"R"Us in 1 easy checkout!
Our recommended Age: 9 - 13 years